Sales Dashboards
Use sales dashboards to hit more targets.
Track all your Sales KPIs in one place
Sign up for free and start making decisions for your business with confidence.
or
Sign up with your email
Free forever ● No credit card required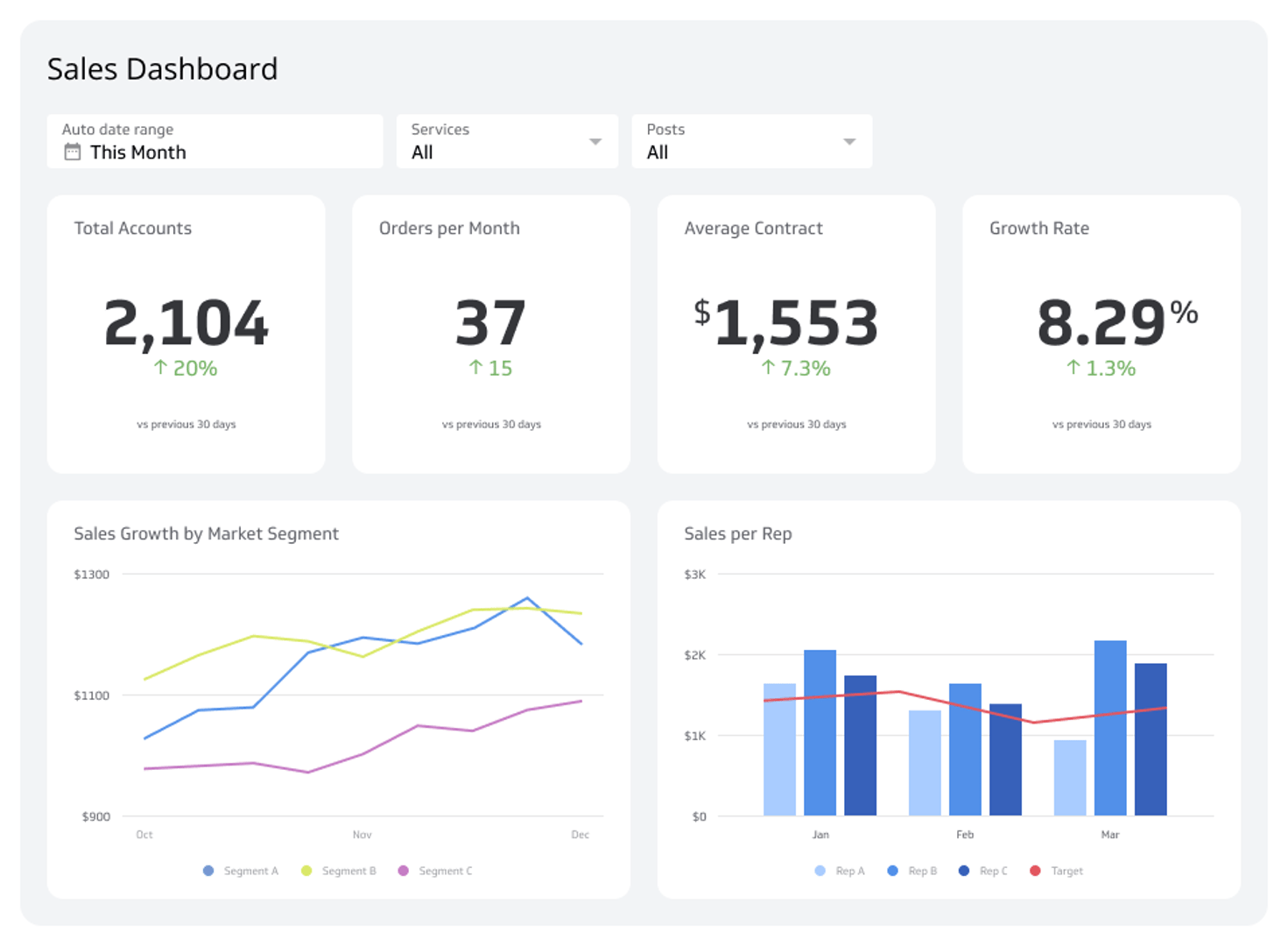 What is a sales dashboard?
A sales dashboard provides an at-a-glance view of your sales team performance. Sales teams operate in a fast-paced, target-oriented environment. Data-driven sales teams closely monitor their individual and team performance on a daily basis so they can adjust or improve their strategies in real-time.
What is the purpose of a sales dashboard?
A sales dashboard is a quick way to visually display your progress so you can always have your finger on the pulse of your business. A well-designed sales dashboard will inform your sales team about issues or action items that require immediate attention.
A sales dashboard isn't meant to replace your CRM. While your CRM tracks accounts, opportunities, and leads, a sales dashboard will provide you with a concise overview of actionable information in an easy-to-consume format.
How to create a sales dashboard
All dashboards are built on the principle of pulling data into the platform and providing the sales team with a visual representation of that data. Here's a simple checklist for creating a sales dashboard:
Identify the sales metrics and KPIs you need to monitor
Identify where that data currently resides (CRM, Excel, Google Sheets, HubSpot, Salesforce)
Determine how you want to view your dashboard (TV dashboard, mobile or desktop dashboard)
Evaluate a dashboard software vendor based on your requirements
Pull data from your data services into the dashboard
Choose appropriate visual representations for your dashboard
Share the dashboard with your team to encourage adoption
What should I include in a sales performance dashboard?
A sales dashboard should include the metrics and KPIs that guide your team. The purpose of a sales dashboard is to track your progress. For sales teams, performance—whether it be through revenue, number of SQLs, or closed won deals—is a key indicator of success. Keep your core metrics and KPIs in mind when designing your dashboard.
How to design a sales dashboard
Designing a sales performance dashboard takes time. Be aware of how your dashboard will be used and who will use it. For most sales teams, the dashboard should be focused on the team's needs without overloading on too much data. There is no such thing as a one-size-fits-all dashboard! For a full guide on dashboard design, check out our Starter Guide to Dashboard Design.
Start tracking your metrics
Level up your analytics with a free forever PowerMetrics account