SaaS Dashboards
Use dashboards to track SaaS metrics for each team in your business.
Track all your SaaS KPIs in one place
Sign up for free and start making decisions for your business with confidence.
or
Sign up with your email
Free forever ● No credit card required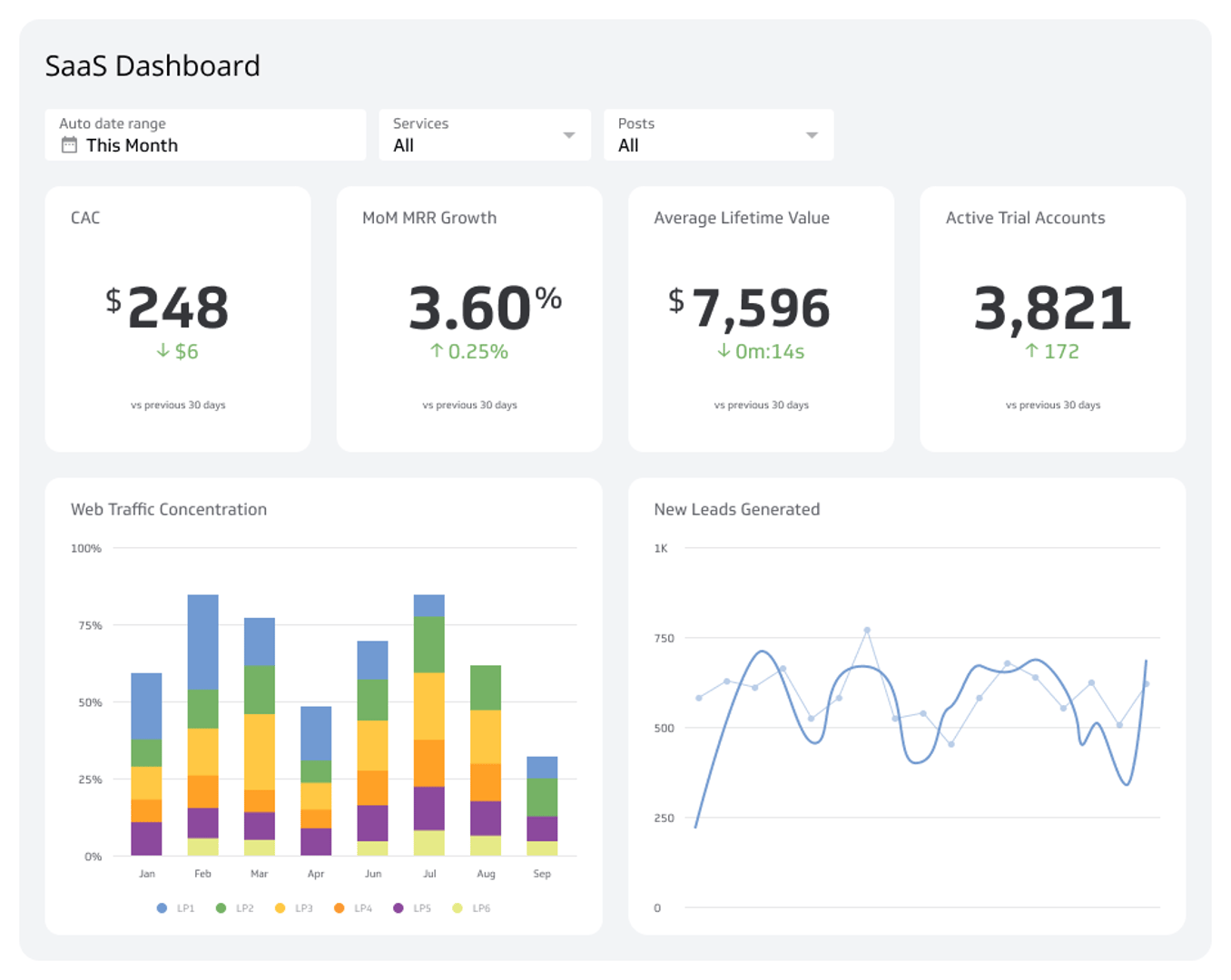 What is a SaaS dashboard?
A SaaS dashboard is a business tool that provides real-time visibility into SaaS applications. It allows businesses to monitor and analyze key data metrics and KPIs (e.g. CAC, MRR, ARPU, CLTV, etc.), providing the information necessary for data-driven decision-making and application optimization.
Why use SaaS dashboards?
SaaS (Software as a Service) businesses operate in a fiercely competitive market. A SaaS dashboard organizes key SaaS metrics from sales, marketing, finance, support, and development teams to give executives a bird's-eye view of the business.
Successful SaaS businesses have one trait in common: they are hyper aware of their SaaS metrics and KPIs. Metrics – including recurring revenue, lifetime customer value, cost to acquire customers, and net retention – are top of mind for SaaS founders and executives. SaaS Dashboards empower businesses by providing a real-time window into their metrics.
How to use SaaS Dashboard examples
Each team in your SaaS business requires a different set of metrics to hit their objectives. The Growth Team is laser focused on MRR and account growth, while Success monitors customer retention. Use these dashboard examples to see how fast growing SaaS businesses are reporting on their performance.
Start tracking your metrics
Level up your analytics with a free forever PowerMetrics account